SANTEC hos been a pioneer of Quick Mold Change Systems for many years. We can give you offer for the best for your molding operations. These fully customizable Quick Mold Change Systems drastically minimize setup times, maximize efficiency and increase safety. SANTEC Quick Mold Change System can be designed to fit almost any Molding machine and mold casting machine, Hydraulic & Mechanical Presses to allow for quicker mold change times, resulting in shorter machine down time and increased productivity.
The offered range includes
Specification

Shorter Mold Change time
Comparison of Mold Setting Time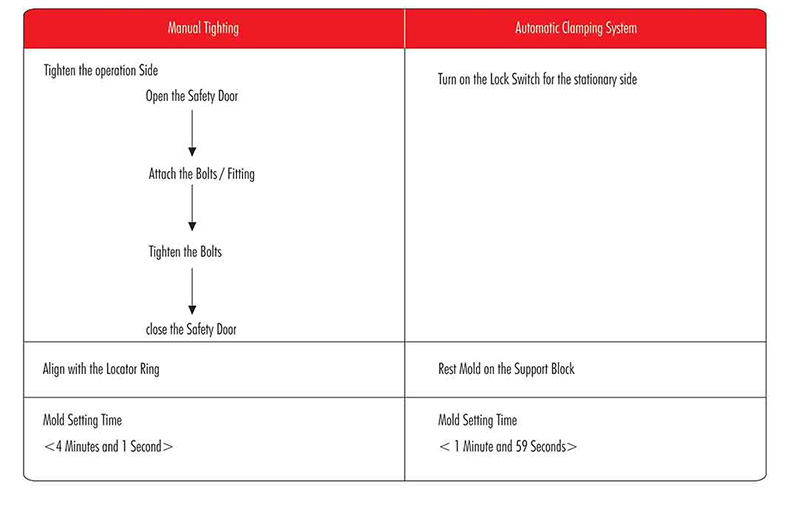 Die Loading Arms
SANTEC die loading orms are the best & quick solution for transporting heavy molds & dies with o crane or conventionol stacker or scissor lifts. These are available in different designs -Permanently mounted to the press table, hinged type & detachable type. Different die loading arms designs enable effective adaptation to the die weight and format while taking into consideration the space available. These Die loading arms ore always used only in pairs in any press /machines.
Hydraulic Die Lifters
The Quick Die Change System caters for o variety of different Die lifters which allow for simple and quick movement of dies on o press bed. SANTEC supplies two different types of Die Lifters according to the press tonnage, die weight and the die positioning accuracy required. There is o choice between o Spring-loaded Die lifter, better suited for light to medium duty pressing operations and o Hydraulic Die Lifter more often used for medium to heavy duty pressing. These con be designed & supplied as per customer's application & requirement.