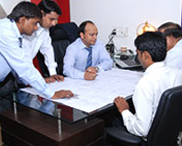 Our company has successfully secured its name in industry as a reputed manufacturer, exporter and supplier just because of the tireless endeavors of our dexterous team of professionals. They are known to the growing market challenges and hold expertise in accomplishing the same accordingly. We conduct seminars and skill enhancement programs to keep them updated with market challenges and clients' specifications. Cobra is devoted to its human resources, as the people are company's key strength. The company has best of the talents that create an awesome base of expertise. Cobra has a core group of professionals, who are well versed in the production of hydraulic machines. The team boasts of eminent professionals from different disciplines right from engineering to the management. The power players of the core team are:
Mr. U. K. Sangal, CEO
The founder of Santec, successfully led the company through significant growth within a very short span of 15 years. He has good market knowledge & understand what customer Expect from the manufacturer. He is the person responsible for formulating strategies regarding the progress of the business. He always places customer's requirement at the top. He is also entrusted with the responsibility for product development, brand positioning, advertising, promotional campaigns, media publicity etc. his in – depth knowledge on machinery building & more specifically the hydraulic presses, Rubber & Plastic machinery has enabled SANTEC to further develop the quality & become the industry leaders in machinery building sector. He is holding B. E. (Bachlor degree) in production engg. From Puna University & have worked in many leading industries before starting Santec.